In the past few years of travelling around Bangalore, we have done some amazing wellplannedtrips to ShivanaSamudra, Talakkad, KGudi, Yercaud, Nandi Hills etc. Exploring Karnataka further, we chose our next vacation to Machaan plantation resort in Sakleshpur.
Sakleshpur is a hill station in the Western Ghats mountain range, in India's Karnataka state. It's surrounded by slopes covered with tea, coffee and spice plantations. Sakleshpur is known as "Switzerland of Karnataka" and "Poor man's Ooty". It has amazing nature landscapes and treks to offer.
We planned for a 2 night stay and after lots of research for best resort options which are close to nature with maximum covid safety measures, we booked Machaan plantation resort, Sakleshpur.
Machaan plantation resort, Sakleshpur is a lovely resort to spend your best vacation in the lap of nature with amazing views of Western Ghats, forests and paddy fields all around with birds chirping sweetly. Resort is set on a coffee estate near Sakleshpur, a beautiful hill-station approx 250 km from Bangalore.
With 16 Guest rooms, an in-house Restaurant and an Outdoor Pool – Machaan Plantation Resort is ideal to just relax and enjoy a nice, lazy, quick-break holiday ! And of course there is also ample sight-seeing / trekking and bird watching that one can do at this location.
I will cover the below important points in this blog, so that you can get a feel of the resort and important places to visit to plan your trip well
Drive from Bangalore to Machaan plantation resort, Sakleshpur
Bangalore->Hassan->Belur Chennakeshava Temple -> Machaan plantation resort, Sakleshpur
Just click on the location (A,B etc) and open it with google maps. Now you can easily navigate from your location to the respective destination
Started from Bangalore around 7 am
Breakfast at Swathi delicacy around 9-10 am. We saw some other good options like Empire, Kamat etc also on the way (Left Side before reaching Swathi Delicacy)
From Hassan we have 2 route options

1. via Belur or
2. via sakleshpur.
Due to national highway works going on, via sakleshpur has bad roads from hassan to sakleshpur patch. So while going directly to the resort we considered going via Belur.

Roads conditions are good and scenic with lush green backgrounds.
Explore the marvelous architecture and divine environment of Belur Chennakeshava Temple
Check-in and enjoy the delicious lunch (included in the package)
Covid Safety measures
Sanitizers are kept in reception, restaurant and main places etc
Staffs and Service persons are using gloves, masks and sanitizers.
Rooms are sanitized well
During the room cleaning after first day, the sanitization was done. We were really happy with the cleanliness and covid measures implemented at Machaan plantation resort, Sakleshpur. We were able to enjoy the vacation keeping aside all worries about covid.
Packages
Package includes 3 times food from the inhouse restaurant

Lunch & Dinner on the check-in day
Breakfast on the check-out day
CLICK THE IMAGE BELOW AND BOOK 🙂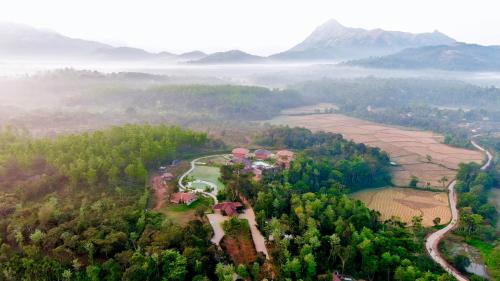 Work from home packages
The entire resort has wifi and you could choose to work from a different spot within the resort each day ! Machaan plantation resort, Sakleshpur is offering 5 day workcation packages with an option to extend the days further !
Terms & Conditions: Minimum stay is 5 nights Offer not valid between Dec 24, 2020 to Jan 02, 2021
For reservations or more information contact +91-8970-33-55-44 or email at [email protected]
Please share the coupon code "WellPlannedTripToMachaanPlantationResort" to get best prices.
Rooms
Construction of the cottages is impressive and are in traditional style. Along with the amazing views of Western Ghats, forests and paddy fields all around, its a bliss in the middle of nature. Nice chirping of birds in the background was so soothing.
In total Machaan Plantation resort, Sakleshpur have 4 cottages now, each consists of 4 rooms, total 16 rooms
8 rooms with king size bed & 8 rooms with 2 single beds
Each of the 16 guests rooms are spacious and elegant with AC & Cable TV. Every room has a sofa-cum-bed to accommodate families with children
Nice spacious rooms with good thick and comfortable beds and lightings
Clean and spacious bathrooms too.
Nice shower and hot water was available all time.
View from the windows was cool
We got Room no : 203 which was in first floor. Views from the balcony was amazing. Balconies were wide and good with marvelous views of the hills and valley.
Facilities\Activities
Swimming Pool
Enjoying in swimming pool with such breath taking views, will be something to cherish forever.
The pool pavilion serves pool snacks and kiddy meals, short eats and beverages all day.
Restaurant
Food was so delicious and tasty. There was good mix of dishes which suits all food lovers. In 2 days, not even once single dish was repeated.
The Restaurant serves local cuisine as well as an Indian menu
Non-Veg and Veg both options were good

Starters
Main Course
Dessert

Package includes 3 times food from the in-house restaurant
Its generally buffet with more number of guests.
During our visit, only 2 families were there, so the dishes were made and served. There was good variety of options and there was no compromise in taste and quality.
Indoor Games
On top floor of the restaurant, there are indoor games like

Table Tennis
Carrom Board
Chess etc
Outdoor
Bonfire
Bonfire set up at the lawn near restaurant, with the open sky and star gazing was beautiful experience to remember
Barbeque was also provided during the Bonfire
Drinks were available for ordering.
With breathtaking views all around Machaan Plantation Resort, Sakleshpur is an ideal location for a quick getaway to relax rejuvenate and refresh.
Places to visit nearby
Have given a route map for all the places at the end
Pandavara Gudda Trek
10 mins drive. Only few kms drive from the resort.
15-30 mins trek with awesome views of Western Ghats.
If you have a car, resort can arrange a person to guide you with the trek.
Its a small and straight forward trek. So, it can be done individually too.
Visit Bettada Byraveshwara temple at the starting point of the trek. Its a beautiful temple inside lush green forest.
I will be covering the trek in detail soon. Stay tuned 🙂
Hanbal falls / Magajahalli Falls / Abbi falls
Different names for the same falls.
7 kms from the resort. On the way to Sakleshpur
You can consider getting into the water if its not crowdy
Have to cross some slippery rocks. So be careful while getting there
There is 2 points

One from the top point
Another point where the water falls deeper. You can reach here by going down and crossing some rocks through water. Please be extra cautious due to the slippery nature of rocks.
Ettina Bhuja
One more trek available around 10-15 kms from the resort. If you have more days, you can plan this one too.
Bisle Ghat
Manjarabad Fort
Devaramane
Around 25 kms from the resort, its renowned as a hidden gem in Chikamangalore hills.
Beautiful ride through the green valleys and mountains.
If you can manage one more day, Don't miss this one 🙂
You can find some more details and reviews here
Route maps to visiting places
A : Machaan Plantation resort, Sakleshpur
B : Pandavara Gudda Trek (Bettada Byraveshwara temple)
C : Hanbal falls / Magajahalli Falls / Abbi falls
D : Devaramane
E : Ettina Bhuja(Sri Nanya Bhairaweshwara Temple, Byrapura)
F: Majarabad Fort
G: Bisle Ghat
Just click on the location (A,B etc) and open it with google maps. Now you can easily navigate from your location to the respective destination. So depending upon your time availability you can cover the places. Please keep 50% extra time flexibility from the google map drive timings for smoother and less rushed trips.
You can also check out more attractions and details in machaan website
Itinerary for 2 days
Day 1

Drive from Bangalore
Explore Belur Chennakeshava Temple
Enjoy the delicious lunch and check-in to the Machaan Plantation resort, Sakleshpur

Day 2

Morning 7 am -> Pandavara Gudaa Trek
Come back by 9-10 am and have breakfast
Enjoy the indoor games and nature of the resort
Can visit the nearby Hanbal falls / Magajahalli Falls / Abbi falls (Different names for same falls)
Evening – Enjoy the barbeque and camp fire.

Day 3

Visit the nearby small water falls/Take a coffee estate walk.
Return to Bangalore after Breakfast
Explore Manjarabad Fort fort on the way
Also, if you time permits you can explore Shettihalli Church taking slightly different route
If you have few more days, Try to cover Devaramane,Ettina Bhuja,Bisle Ghat etc. As it is in different direction, we can't visit on the way back to Bangalore
Other WellPlannedTrips you might be interested