Nandi Hills has always been a favorite destination for Bangaloreans. But, there is much more than just the sun rise, you can include in Nandi hills plan. If you are confused, how to plan a trip to nandi hills, my detailed Nandi hills trip planner will help you plan an amazing trip.
Dec-Feb is the best time to visit for amazing views. Rather than a day trip, staying at hill top was an amazing and worth experience. We have been to Nandi hills for more than 5 times, but staying at Nandi hills resort on top of hills was a whole different experience. It's completely worth it. If you can manage to get Nandi hills booking of stay, that would be the best way to enjoy your Nandi hills trip. This NANDI HILLS trip planner would be perfect and helpful for a wellplannedtrip to Nandi Hills.
Gates at the foot of the hills open around 6am & the vehicles queue up from as early as 5.30. There will be huge queue of vehicles waiting. Once opened it will be rush of vehicles and bikers will be riding crazy. Once reaching entrance, u need to wait hours to get tickets. Then walk n reach top. By the time we would be reaching top, No real chance for enjoying the sun rise. Seeing many travel posts in social media with too much crowd and taking 3+ hours to reach the top in traffic.
When we go for day trip, due to the timings we can't enjoy the sunrise and sunset fullest. It's awesome experience to stay at top in Nandi hills resort, as we can avoid day crowd and enjoy sunrise and sunset from the hotel nearby areas itself. Always better to avoid crowd as much as possible for peaceful time. As it's bit interior, day crowd won't come near this areas.
Hope this detailed nandi hills trip guide with important places to visit, route map, itinerary, hotel pics and link to book will be helpful.

Find more wellplannedtrip videos here
Nandi hills trip planner. Nandi hills travel guide.
How to plan a trip to nandi hills
Nandi hills is around 70-80 km from Bangalore and will take approx 2-3 hours. We started from Bangalore around morning 9.30 am after breakfast.
From Karahalli cross, we took a right to Bhoga Nandeeshwara Temple which was around 5 kms from the junction. Bhoga Nandeeshwara Temple is a must visit during your Nandi Hills trip.We reached the temple around noon time.
Bhoga Nandeeshwara Temple
Its so beautiful temple and the atmosphere is so calm. Temple's architecture will leave you amazed.
The original temple in the complex, was identified as one of the oldest temples of Karnataka, dates back to the early 9th century.
For more pics of Bhoga Nandeeshwara Temple check out bhoga-nandeeshwara-temple
After temple visit, just for curiosity we rode towards Chikkaballapur village. Inside areas of the village must be beautiful, but we just went a round in the main roads as time was limited. We had our lunch from hotel Green chilly, Chikkaballapur. It was near main road, and the food exceeded our expectations. Best ever Gobi chilly I had and the butter nan was also nice.
After that we headed back to Nandi hills. On the way back, ie between Chikkballapur and Bhoga Nandeeshwara Temple we found beautiful grape farms on the sides. We stopped by and requested the care taker to click some pics and luckily he agreed. It was so cherishing and beautiful experience being in the green grape farm, having grapes hanging all over your head. For watering, they had put small pipes all over the top. Grape farm visit was unexpected and surely became a highlight of our trip.
Grape farm near Nandi hills(on the way). Grape farms to visit near Bangalore
Nandi hills resort
Can we stay at Nandi hills top? Where to stay at Nandi hills? Which is the best option to stay at Nandi hills?
We reached Nandi hills by evening and checked in to Mayura Pinetop, Nandi hills resort at top of the hills.
You can book the same here
This is the best nandi hills trip plan and safe way to visit Nandi hill by avoiding crowd during these covid times
Usually its on quite demand. So book before it gets sold out
Book as early as possible for best rates.
Take a first floor room for better views.
The restaurant is walkable from the hotel. They have room service also.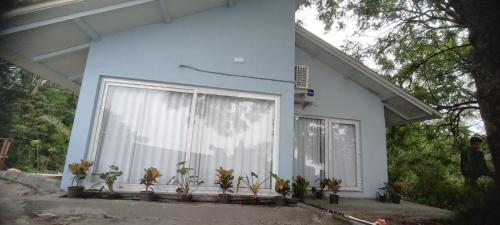 Can we take the vehicle to the Nandi hills top?
Yes. If you show the booking at Nandi hills resort , security will allow the vehicle and and you can ride to top and park vehicle near hotel. (Usually we have to park our bikes down and walk up towards the hills )
By evening, we walked a little from the hotel and enjoyed the sun set. Good thing this, you can be away from the crowd and enjoy the peaceful atmosphere.
Morning, we got up early and got ready for the Sunrise. From the hotel itself we could enjoy the sun rise. Nandi hills is very much crowded when you get to the sun rise point. If you would like to enjoy a peaceful sun rise with your partner/friends this is a good option.
We had breakfast from the Mayura Pinetop hotel near the sunrise point and the food was good. By 8 am the mist started going off. So if you are planning for misty photo shoots, plan well accordingly.
As Nandi hills is plastic free, no use & throw water bottles are available, do carry water bottles.

Entry fee for car is Rs.175 which is collected once u reach the top entrance.

Tips
Nandi hills itinerary
Google map locations of important places
Important places to visit in Nandi hills
Google map location list of important places, which can be covered in Nandi hills trip
https://goo.gl/maps/ANCENtKR2beV8StQ8
After visiting the important places, we headed back to Bangalore by afternoon with refreshed and happier minds 🙂
Places you might like :