If you're planning Bangalore to shivanasamudra waterfalls trip, here's a complete travel guide. Covering from how to reach, things to see and best stay. Shivanasamudra falls bangalore is a perfect weekend trip with family.
Barachukki and Gaganachukki are two waterfalls situated near the island town of Shivanasamudra in the Mandya district of Karnataka.
Shivanasamudra waterfalls are created by river Cauvery that runs down a 75 metre gorge before it divides into two branches that flow around the island of Shivanasamudra karnataka. The two branches (eastern & western branches) flow through deep ravines on either side of the island before plunging in two different places a few kilometers apart to form the Barachukki and Gaganachukki waterfalls.The waterfalls are located at a distance of about 139 km from Bangalore and about 60 km from Mysore.
The eastern branch of the waterfall is known as Barachukki while the western branch is known as Gaganachukki. Barachukki and Gaganachukki waterfalls are together known as the Shivanasamudra Falls.
Shivanasamudra literally means Shiva's Sea. These two waterfalls are considered to be among the best 100 waterfalls of the world.
Situated on the banks of river Kaveri, Shivanasamudra karnataka is primarily a hydropower project location but has gotten massive attention for its stunning waterfalls: Gaganachukki and Barachukki. Travelers enjoy the view of waterfalls from the benches, and there are steps that take visitors to many levels of vantage points.The area near the waterfalls is famous for being the location of Asia's first hydro-electric power station that was set up in the year 1902 and is still functional.
Shivanasamudra karnataka
Gaganachukki falls
The Gaganachukki falls is a brilliant sight especially after the rains when the River Kaveri is full.
The Gaganachukki Falls are shaped like a huge horsetail. It is a steep waterfall that rushes down with great velocity and provides incredible views.
The Gaganachukki waterfalls are best viewed from the view point/watch tower at Shivanasamudra. The twin waterfalls have an average height of 98 metres .
Its not allowed to go to bottom of the falls. You might see some people going near to falls, but its very risky and no guards are available. Please stay safe and enjoy the view from top.
The Barachukki Falls cascades down from 250 feet with a U section resembling the Niagara Falls.
Barachukki falls
The segmented Barachukki Falls are a graceful one and the more popular and wider one among the two falls. (I liked gaganachukki more 🙂 )
The waterfall has a height of about 69 metres. There is a narrow flight of about 200 concrete steps that lead down to the waterfall. The way down to the waterfall is relatively safe as it fenced with railings and there are benches to sit on and relax for a while when you get tired.
The waterfall is a vibrant sight to watch during the monsoon season when the volume of water gushing down the rocks increases substantially. The waterfall can be enjoyed from close quarters as there are shallow areas near the place where the water plunges.
Visitors can get into the shallow water. However, due caution must be exercised as there are no life guards available near the waterfall and accidents can prove to be fatal.
An interesting way to watch the beauty of the waterfall is to take a coracle ride to the mouth of the magnificent waterfall. The mist formed from the water plunging at great speed from the cliff above is a great sight.
Barachukki also has a section of waterfall where the water flows less in volume. The place is ideal for adventure seekers as they can stand and enjoy a bath under the waterfall in this area. Reaching this section of the falls is an adventure in itself as the section can be reached only after crossing a narrow stream.The waist deep stream has very strong water current and the river bed is full of extremely slippery rock bed. As such, it must be crossed carefully.
During monsoon when the water levels are high, entry to bottom of falls is restricted and the boat(teppa) ride is closed . These measures are due to the accidents and loss of lifes in past. So please act wise and enjoy the mesmerizing view from the top.
TIP : BEST TIME TO VISIT

The timings for Barachukki falls are 8:00 AM to 5:00 PM and Gaganachukki doesn't have timing restrictions. However, it is advised to visit the falls during the daytime. The best time to visit Shivanasamudra falls is during monsoon or post monsoon for the best weather and intensity of the waterfall.
Dharga View Point
This is a less known and bit messed up (no that clean), but its a must visit view point. It presents the upstream end of the Gaganachukki waterfall and is closer to the Barachukki Falls.(Before reaching Barachukki gate, there is a board towards left ). The view of the upstream end is particularly fascinating during the monsoons when the volume of water swells by several degrees.
Shivanasamudra falls best time to visit
Best time to visit Shivanasamudra falls is from September to January to witness the best weather and glory of the waterfall.
Shivanasamudra falls resort
Place to Stay in Shivanasamudra falls
Weekends will be too crowdy. If you want to enjoy the falls the most, try to visit on a weekday and also take a stay in Hotel Lakshadeep Gaganachukki or Hotel Mayura Barachukki. Please refer to stay & itinerary section below for details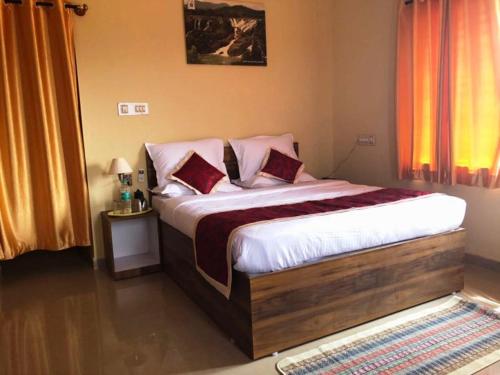 Hotel Lakshadeep Gaganachukki. (Run by govt KSTDC)
TIP :

On weekends you will find too much crowd. If you want to enjoy the falls the most, try to visit on a weekday and also take a stay in Hotel Lakshadeep Gaganachukki or Hotel Mayura Barachukki.

Hotel Lakshadeep is at the Gagnachukki view point and we can enjoy the falls to the fullest with no crowd around till 7 or 8 pm as you like. Only you and the falls, It's just amazing. There is no online booking for Hotel Lakshadeep. You can call the manager to book 88844 23456 . AC room balconies have direct view to falls. Try to get Room 103(Corner room with best view) or 102.

Hotel Mayura Barachukki can be booked here
Important Tips
Start as early as possible to avoid wasting time in Bangalore traffic.
Take Kanakapura route to avoid Mysore highway traffic. Its scenic too, as it goes through villages. No tolls.
For breakfast you will find some options in Kanakapura. Also, after crossing kanakapura, you can find dhabhas on road sides. You can have breakfast from here and continue ride.
There is a "Chunchi falls" in kanakapura and it is around 30km from the junction. You can include if you have time.
Take a stay in Hotel Lakshadeep Gaganachukki (Room 103 or 102 ) for enjoying the falls to fullest.
Can explore Talakkad,Mudukathore and Br hills in 1 or 2 days extra. Please find itinerary at the end
There is paid parking available at the vantage point, and there are also some shops serving refreshments. However, there is a scarcity of restaurants near the vantage point.
shivanasamudra temple

The Ranganatha temple here attracts pilgrims.

The Cauvery Wildlife Sanctuary is another important attraction here and is popular if you go fishing and trekking
Shivanasamudra falls now
Try calling the manager of KTDC gaganachukki falls 88844 23456, and get the latest water flow and other information.
How to reach shivanasamudra falls from bangalore
Bangalore to Shivanasamudra distance
Around 140-150 Kms
Bangalore to shivanasamudra waterfalls. Which route is best for Shivanasamudra falls Bangalore trip?
We liked the kanakpura route as the roads are nice and scenic. Also, i felt we can avoid the mysore traffic by choosing this route. No tolls. If you would like to explore channapatna and some temples, you may chose the other route for return.
shivanasamudra check dam boating
Boating availability depends upon the water levels. On the way to barachukki, you can check out this google map place for coracle ride
https://goo.gl/maps/S9iPQkKQWBqzp2eW6
Shivanasamudra and talakadu trip from bangalore
Day 1 FRI :

Start from Bangalore by morning 6 am. Best to start earlier to avoid traffic in city. There are some hotels in kanakpura. After crossing kanakpura, there are dhabhas on road sides. You can have breakfast from here and continue ride.
There is a "Chunchi falls" in kanakpura and it is around 30km from the junction. You can include if you have time.
Reach shivanasadura by afternoon Check – In to hotel Hotel Lakshadeep Gaganachukki .

Have lunch and take some rest
Afternoon -> Barachukki falls. (gate closes by 4 pm)
5 PM -> Gaganachukki falls, near to hotel. After 6 pm or so all crowd leaves and all falls is all yours to enjoy. Its an amazing experience.

Day 2 SAT:

Morning : Checkout : Enjoy morning grace of Gaganachukki falls before 9 am.
Start to Talakkad
you will find guides for temple tour. Around 200 rs, 1 hour.
Enjoy teppa ride -> Rs 120 for a couple
Goto Mudukuthore – Enjoy the temple and the view from the top
To BR hills (Check-in : Hotel Mayura Br hills. Room no : 105 for best view
Enjoy the evening . There was some tribal dance performance on Saturday.

Day 3 SUN :

Early morning : Ride to Kgudi. Beautiful ride through dense forest. Around 20 km, 1 to 1.30 hr. No breakfast options available.
Morning 6 to 9 am & evening 3 to 6 pm : Safari available. Please don't have high expectations of sighting tiger. (Chances are better in summer). Deers, Elephants, bison, birds etc could be spotted. Can be booked in direct only.
If you wish to stay in Kgudi, check out K Gudi Wilderness Camp. They arrange safaris too.
Start back to Bangalore with beautiful memories.
Like to capture amazing travel videos for life time? Gift yourself the latest gopro hero8 black. Its completely waterproof up to 10m depth without housing